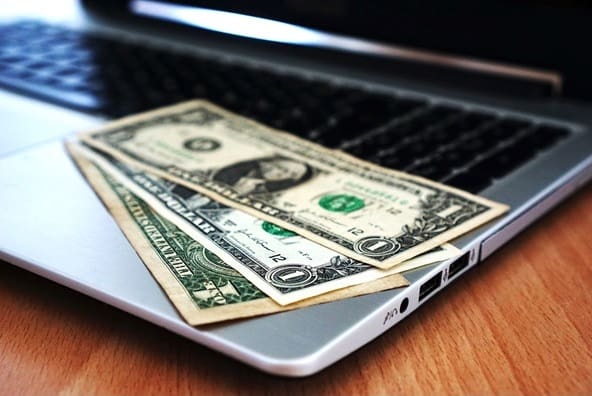 In today's digital world, making money online isn't farfetched. In fact, it's the perfect way to either earn an income or supplement your existing income – not only can you work from the luxury of your own home, but you can also be your own boss and make your own hours. You've likely seen many ads touting the idea of making a living online and talking about how you need to spend money in order to make money. However, this isn't true – many scammers use this technique to get you to "invest" your hard-earned money into yourself and guarantee a paycheck. In reality, you may earn back very little of your initial investment or lose your money altogether.
Avoid the scams and check out the 9 best websites to make money online – these tried-and-true favorites can help kickstart your online money-making journey.
Don't let these scams discourage you – there are real and risk-free ways of making money online, and we're here to help you with just that. We have prepared a comprehensive guide on the 9 best websites to make money online. Check out the websites below and start making money from home today.
Best Websites to Make Money Online
With so many options out there, it can be difficult to know which ones to trust and which ones are the most lucrative. Fortunately, we've done this research for you and have narrowed the choices down to the following 9 reliable websites.
1. Upwork.com
Upwork is an extremely reliable freelancing platform that you can use to find professionals looking for your skills. Whether it's freelance writing, video editing, or marketing, Upwork has something for everyone. Upon the completion of your profile, Upwork will highlight jobs that are suitable for your skillset. However, you can also browse jobs and bid for projects.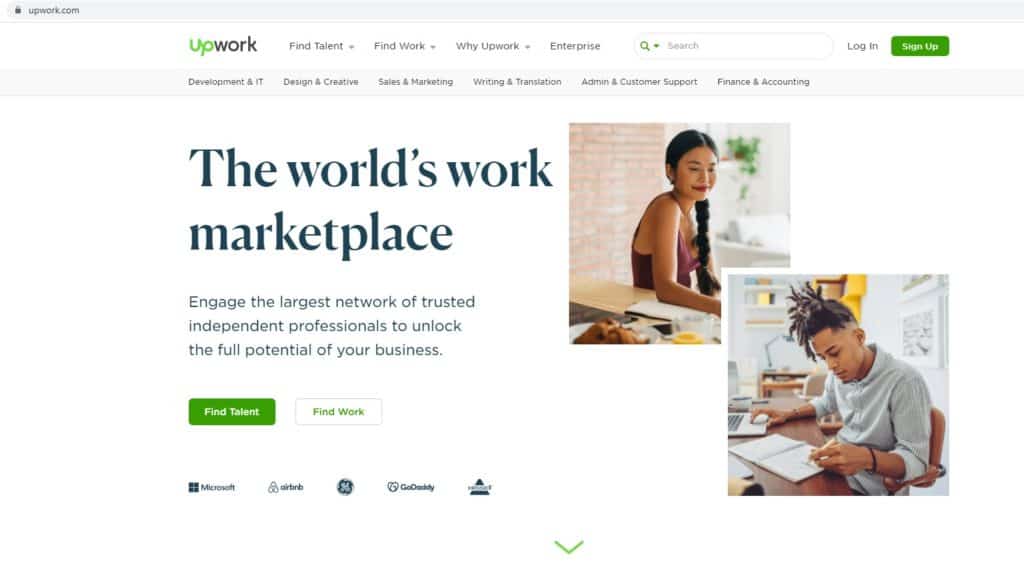 Apart from being one of the most lucrative options on this list, one of the best features on Upwork is payment protection to ensure that you won't get scammed. Users can also charge an hourly fee or complete a project for a fixed price. The website also offers multiple payment options, including direct deposits, wire transfers, Payoneer, and payment through PayPal.
However, you should note that Upwork doesn't have a fixed commission percentage. Instead, the commission is calculated based on how much you earn from a specific job. The sliding fee is based on earnings from each client – Upwork cuts 20% for the first $500 earned from a client, 10% for billings between $500 and $10,000, and 5% for any billing exceeding $10,000.
2. Fiverr.com
Fiverr is a marketplace that connects sellers and buyers. One of the best options on this list, working on Fiverr is extremely easy. Simply offer service and earn money with no investment or upfront cost. Don't worry – despite the name, your fee isn't limited to $5. A gig simply starts at $5. To get started, search through the marketplace and see what kind of services others are offering. From logo design and voiceovers to animation and web development, Fiverr has it all.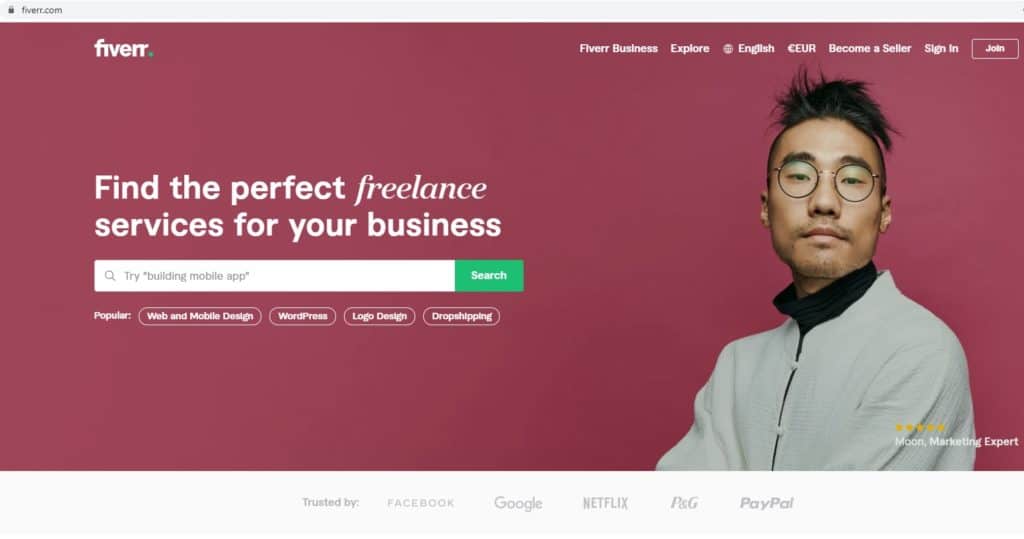 One of the best parts of using Fiverr is that you don't need to be trained in a specific discipline. You simply have to pick what you're good at. This way, you can make money doing something you already enjoy. Find your niche and set up your account to start earning money.
One thing to keep in mind is that Fiverr takes a percentage of the transaction, i.e., 20% of the cut. However, this is a small price to pay considering that in return, you get access to a huge platform with a large network of professionals willing to pay for your skills.
3. Etsy.com
If you're crafty and love making things, Etsy may just be the platform for you. Etsy is a platform for all things handmade and vintage and includes everything from cards and jewelry to clothing and printables. Be sure to browse through existing items on Etsy to see if there's demand for your product and carve out your niche. Additionally, remember to factor in the time and cost of materials when setting your price. Unlike other e-commerce platforms, Etsy only charges users 5% of the selling price as commission, making it a great choice for those looking to make a healthy profit.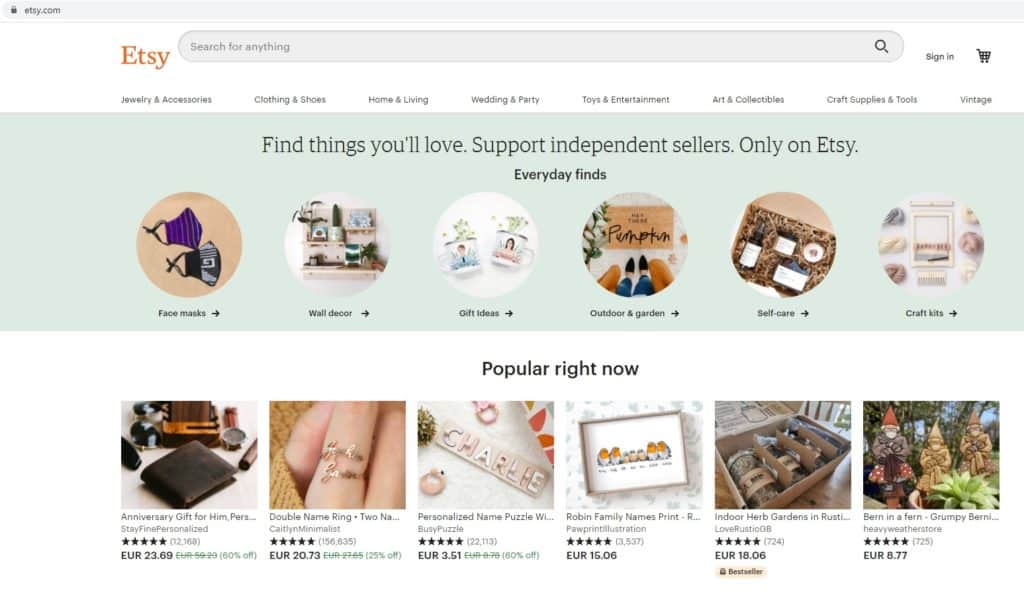 However, Etsy isn't the optimal choice for those looking for a quick cash grab. It takes time to set up a store, list items, etc. It is also extremely competitive, with hundreds of users selling similar items. Therefore, while Etsy is a great way to make money online for crafters, it isn't the best route for everyone. Weigh out the pros and cons before making your final decision.
4. TaskRabbit.com
TaskRabbit is a great website for those who aren't afraid of a little hard work. Whether it's putting together IKEA furniture, fixing appliances, or moving heavy items, TaskRabbit is chockful of odd jobs. Although it has a 15% commission rate, TaskRabbit is convenient, easy to use, and processes payments quickly so that your money is in your account within 2-3 days.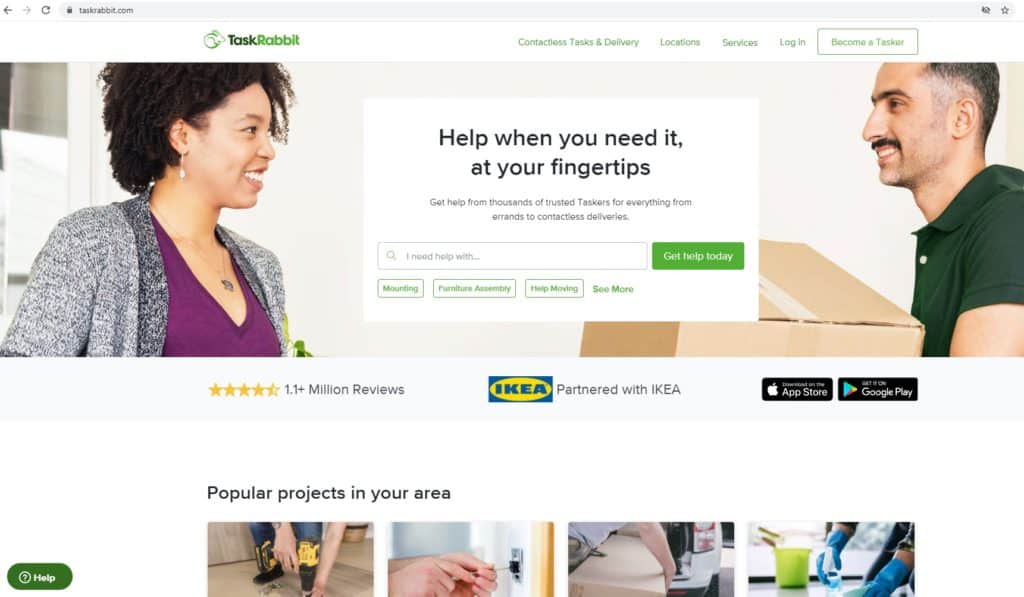 The only downside to TaskRabbit is the $25 registration fee in certain cities. If you aren't willing to make the investment, this may not be the right website for you. However, there are many other options on this list that don't require initial investments – look into one of those to start making money online today.
5. Wonder.com
Those who enjoy research will find an ideal job working for Wonder. However, Wonder is selective and doesn't hire everyone so be sure to nail the application process. Once you're part of the website, you can answer questions from different clients and start earning money from home. Based on performance and the complexity of research, you can earn anything from $8/hour to $30/hour.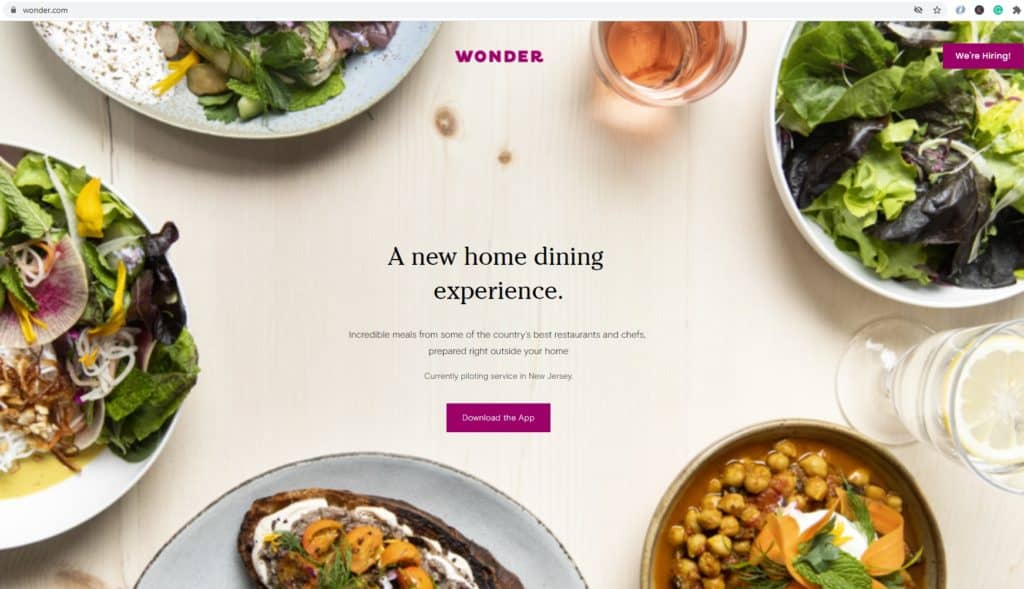 6. ThredUp.com
We all have clothes in our wardrobes that we've never worn, clothes that no longer fit us, and clothes that just aren't our style anymore. Instead of throwing these out, you can actually make money by selling them. ThredUp is an online thrift store that sells gently used clothing at amazing discounts. Whether you have some old shoes, cardigans, or even handbags, you can sell them to ThredUp and make money.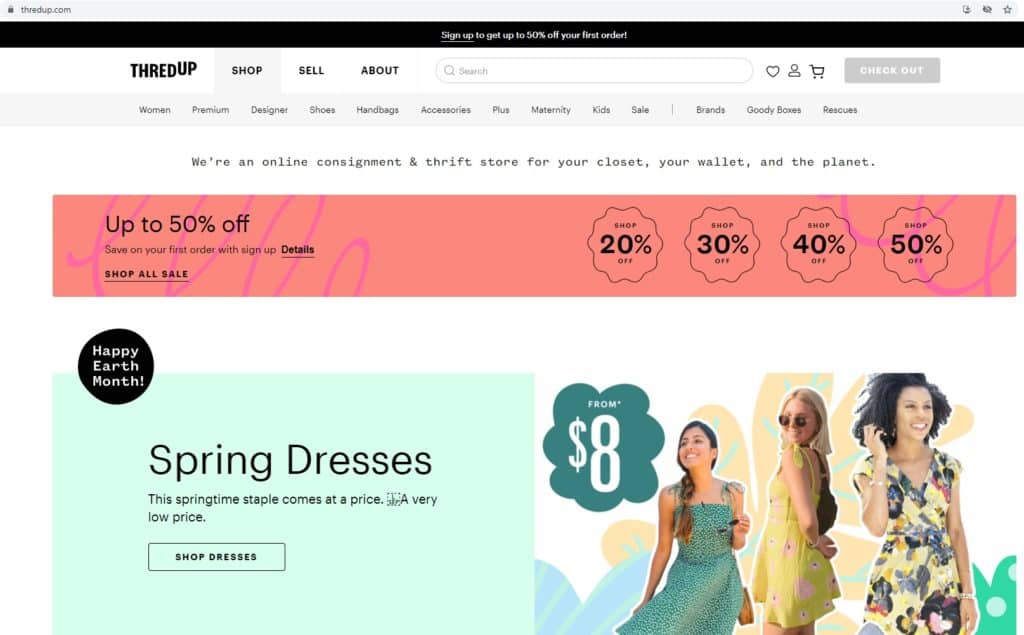 This is one of the easiest ways to make money since you're simply selling your old clothes instead of working. Not only do you get some extra cash, but you also get more wardrobe space, making ThredUp a win-win option. However, make sure that the clothes you're selling are in good condition – ThredUp determines the value of the clothes after inspecting them, and may not accept pieces that are too worn.
7. Swap.com
If you're looking for an alternative to ThredUp, consider checking out Swap. Like ThredUp, it's an online consignment store. However, unlike ThredUp, they accept toys and games as well as gently used clothing. If you have games and toys that you're no longer using, try sending them to Swap to make some extra money online.
Swap also offers users payment in both credit and cash. The amount of money you can make depends on the price of the item. For items priced for less than $10, you can either get 30% credit or 20% of the sale price in cash. For items priced between $10 and $20, sellers can get 50% credit or 40% of the sale price in cash. Anything above $20 gets you 70% credit or 60% of the sale price in cash. However, like with ThredUp, make sure that your items are in good condition. If not, Swap will charge you a fee to return your items.
8. Gazelle.com
No list of the best websites to make money online would be complete without mentioning Gazelle, a company that buys your old electronics. Whether it's an old iPad or a cell phone that you're going to replace, Gazelle will offer you cash for the device. While this isn't the most lucrative way to make money from home, it does result in some cash inflow. Additionally, Gazelle pays for shipping costs and sends you the packaging materials, making this a hassle-free process. After this, all you have to do is wait for a check in the mail or a payment to your PayPal account.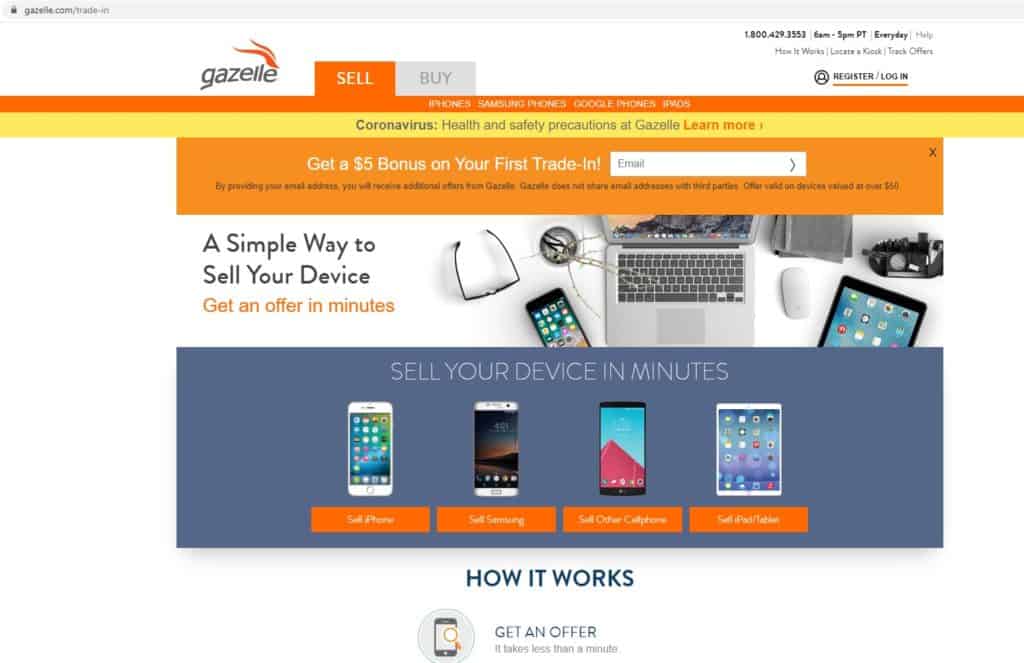 9. Cardpool.com
If you have unused gift cards lying around, make some money by selling them to Cardpool. Christmas and birthdays can result in an influx of gift cards, some of which you never intend on using. Instead of letting them expire, you can sell them to Cardpool for cash, or get another gift card in return. The process is extremely easy – all you have to do is give the company details about your gift card, and they'll make an offer. However, one thing to note is that all gift cards must have a minimum value of $25 and a maximum value of $1000. Dig through your wallet for old gift cards and make some money from home in no time.
Start Making Money Online
Whether you're looking to make some extra money or replace your 9-5 job, making money online is the way to go. Gain financial freedom by checking out the websites mentioned above. Not only are these websites trustworthy, but they're tried and tested by us so that they're sure to make you money. To find more articles about how to make money online, check out our other blogs. Make sure to drop a comment below telling us whether you try any of these websites – good luck!